Meeting of the leadership of the Mejlis of the Crimean Tatar People with an expert who will testify at the International Court of Justice of the UN in The Hague
05 June 2018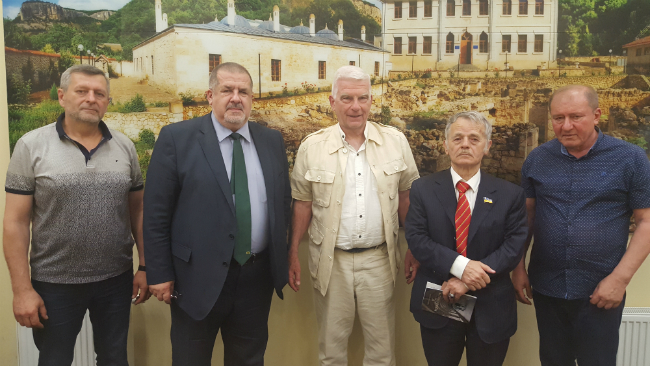 On June 4, 2018, the Leader of the Crimean Tatar people Mustafa Dzhemilev and the Chairman of the Mejlis Refat Chubarov, as well as his DeputiesIlmi Umerov and Akhtem Chiygoz met with Professor Paul Robert Magocsi in the office of the Mejlis of the Crimean Tatar people in Kyiv.
Professor Magocsi was invited by the Ukrainian side to provide an expert judgment to the International Court of Justice of the UN in the framework of Ukraine's suit against the Russian Federation on issue of Russian violation of the International Convention on the Elimination of All Forms of Racial Discrimination in occupied Crimea against the ethnic Crimean Tatars and Ukrainians. The Professor prepared an expert opinion on the historical context, in particular, how the historical events on the peninsula developed that influenced on the ethnic composition of the population, including the description of the situation on the peninsula in the Crimean Tatar and Ukrainian communities since the moment Ukraine gained its independence in 1991. Also, Professor Magocsi is preparing to testify at the International Court of Justice of the UN in The Hague to provide judges with full information about the real historical prefaces of the current situation.
Both sides exchanged their opinions on the further development of the events regarding the suit to the International Court of Justice of the UN.